The British International School of Riyadh is an independent school in the Kingdom of Saudi Arabia. The school follows the National Curriculum (England) providing education for over 1300 children aged 3 to 17.
UK schools often close for snow days. While these can be rare they are a chance to provide continued learning for students through Frog.
In Riyadh snow days are even rarer. However when it rains flooding can be a real issue as the city has no drainage and schools are forced to close.
Lee Drury, Data Manager at the British International School of Riyadh explains how the school use Frog to overcome this problem.
We have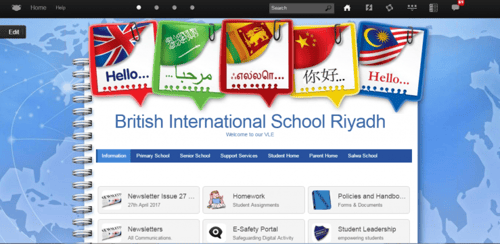 been using Frog for 18 months and were waiting for a rainy day to drive engagement of Frog with staff. I used a concept of creating a site for a rainy day to ensure full training and engagement by all staff (including admin, and Teaching Assistants).
We gave training to all staff and set them a homework task – to create a site with information and a task to occupy a student for an hour. It didn't have to be directly curriculum related if it was engaging for the students. We had everything from scientific experiments students could do at home to mountain bike maintenance and riding techniques. We encouraged staff to write about something they were into that children would find appealing. All that we asked was that the site included at least one of the following widgets: Text, Media, Link to file – other than that it could be as large and complex or as small and simple as required. As added motivation, we also added this task as an action on everyone's performance management to ensure it was done and had a iPad up for grabs for the best site (judged by the head of school).
The results were amazing:
We successfully engaged every single member of staff with the platform.
We had compounded their learning, instead of walking away from a training course and many not putting their new skills into practice they were focused on task straight away and we saw a rise in Frog usage.
We now have a bank of over 200 sites with activities ready for school closure with minimum effort.
Sites with real curriculum resources were created and updated.
I am very proud of the engagement for the launch of Frog and we feel like this was a huge success.
Webinar with the British International School of Riyadh
Watch our webinar with the British International School of Riyadh to find out how they use Frog for teaching, learning, parental engagement and more. Click here to watch the webinar.