From the first lockdown Frog schools have generously shared their experiences to help others. Almost a year down the line Frog would like to thank those involved.


The Real World Learning (RWL) series became the umbrella for sharing information volunteered through schools to help others. Stories have come in all forms, from anecdotes and articles to videos and speaker sessions from school representatives.
We have been so impressed with Frog schools and have no doubt that many will have benefited from this growing community. As we approach the next Real World Learning virtual event, it seemed fitting to use this forum to recognise the amazing examples we have been privy to.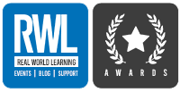 The Real World Learning Recognition Awards shine a light on the schools involved in contributing to the community so far. As the stories were already shared, the Frog team has nominated schools under given categories.


---

ICT Evangelist to pick category winners
Winners of each category will be independently chosen by the ICT Evangelist (Mark Anderson) and revealed at the next Real World Learning event.
Catch up with the Real World Learning story so far...