When lockdown sent shock waves through the education sector it was important to provide practical support...


Real World Learning (RWL) became the umbrella for sharing information that had been volunteered through schools to help others. With schools in different places when it came to edtech infrastructure and competence, the objective was to share simple tips and tricks as well as those for the more advanced.
It was fantastic to see how generous schools were with their time, especially in the midst of such change. Many started life as blog articles, regaling stories shared with the team but things moved on with a series of RWL videos produced and narrated by the schools themselves.


During perhaps the strangest summer holiday we have experienced for some time, the Frog conference (Frog20) went virtual for the first time ever. It was time for us to be bowled over again by our schools as they volunteered their time to be guest speakers for our event. Also a first, we opened the conference to schools outside of the Frog family. With a strong sense that school experiences should be shared with everyone, not just those using Frog, the RWL series took its next step forward...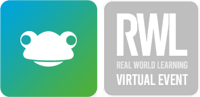 Real World Learning Virtual Events
With a focus on the blended learning approach that schools are having to adapt to, the RWL events are short bites focused on a particular topic.
How To Better Engage With Parents
November 10th, Virtual Event

Join us for the first virtual event in the series which includes LIVE interviews, panel discussion and a practical session all focused on how to strengthen relations with parents. School leaders have kindly volunteered to share their experiences to provide inspiration for others. Although this is a mini event, it is packed with plenty of content to enjoy.
All schools are welcome to join us and registrants will all receive a recording of the session post-event.



Lucy Evans
Chief Customer Officer