The Frog20 Virtual Conference was not just a first for Frog in terms of format but also because all schools - not just Frog Schools - were given the opportunity to attend.


In a year which has seen a whole new approach to teaching and learning, it was felt that the Frog conference could play a role in bringing schools together. Traditional Frog conferences were somewhat restricted by venue and location but the virtual format would open the door to many more schools. As the pandemic has hit everyone, it made sense to put on an event that every school could benefit from, whether they had Frog or not. Inspired by the stories Frog schools had shared in the Real World Learning series throughout lockdown, it was a great opportunity to include these in the agenda.
School speakers were complemented by education thought leaders to provide balance and breadth. Keynotes included, Bukky Yusuf, Sophie Bailey, Nina Jackson and Mark Anderson. Over 125 attendees tuned in from all over the world on Tuesday 18 August to pick up practical tips and prepare for the unusual new school year ahead.


Despite the speaker stories coming from very different places, there were common themes that ran throughout the sessions:


Access to technology
Considerations for those students with little or no access to devices to pick up and hand-in work.
"We had to put a lot of thought into content quality, testing how a lesson would look on a mobile for students with no other kind of device to work from."
Kate Wragg
Structure, familiarity and consistency
The need to reassure students and parents and provide some kind of normality to help with their motivation and well-being.
"Familiarity and structure was the aim to keep things as normal as possible for children at home."
Nick House
Morale of staff and students
Teaching and learning in a different environment and ensuring teachers had support to change and adapt their approach whilst students were given praise, rewards and had access to the information and people they needed.
"Learning without a teacher is a completely different skill."
John Parsons
Upskilling
Recognition that the enforced lockdown created focus on edtech and helped schools to identify training needs.
"Teachers are also learners with regards to distance learning."
Bukky Yusuf
We were really delighted with the response to Frog20 and would like to continue playing host to such events in this format, so that schools around the world have free access to inspirational content and chance to network.


Catch up with all the feedback on Twitter.
---

Coming Soon!
Join us for the next free virtual event we are hosting on 10 November 2020. As part of our Real World Learning series we are looking at the many facets of a blended learning approach. Our first topic looks at the important role parents play in such an approach and how to better engage them in support of an enriched learning experience for pupils.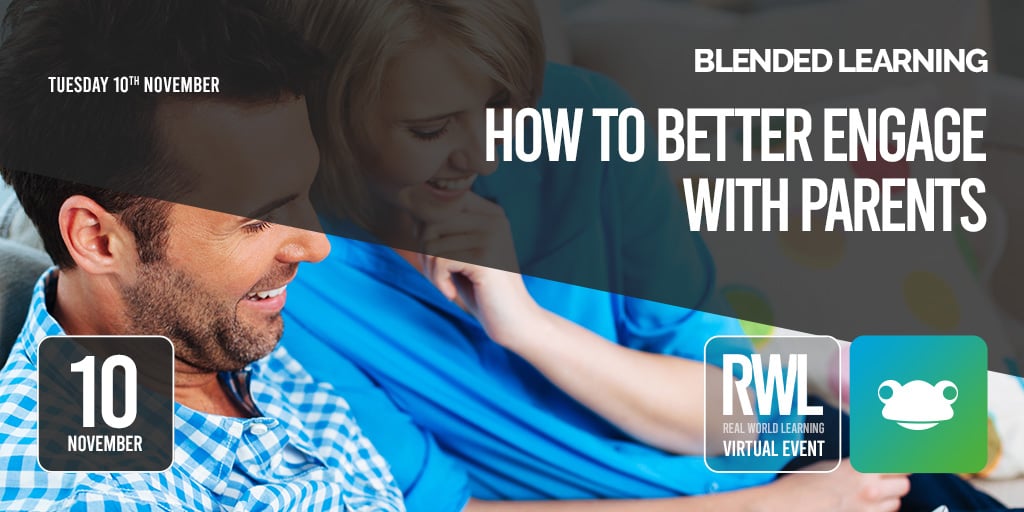 Lucy Evans
Chief Customer Officer