Hold your own election
With a general election taking place on 8th June, there's no better time to get your students engaged and discussing politics.
Frog is an ideal tool to support this in the classroom as a teaching and interactive resource.
To save you time, we have created a Mock Election site so your students can hold and vote in their own election. Students can create their own manifestos, debate their policies and vote for their favourite party.
What's included in the UK Mock Election Site?
Register to vote, hear the manifestos then vote on your favourite party!
Within this site is information on the main UK political parties. Alongside this is guidance for running a mock election in your school, including areas to record the results within Frog. There is also access to an "MP for a Week" game, key political vocabulary and more.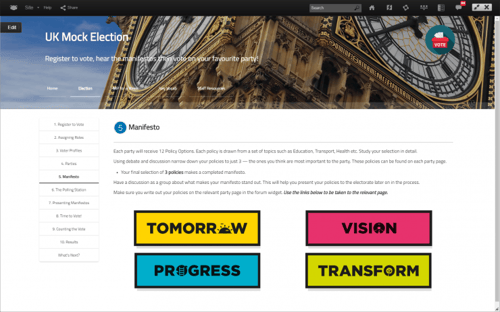 How do I access the site?
This is a free resource for you to download and use. You can install the UK Mock Election site from the FrogStore applicacation inside FrogLearn.
Frog Schools can download a wide range of free themes, sites and apps from the FrogStore.