Are we all slaves to the email inbox, or have electronic communications improved our lives?

We investigate the highs and lows...
Since the first email was sent in 1971, we've moved further and further behind our keyboards across a number of devices. This is also true of those in education, despite classroom teachers being non-desk based, emails are still widely used in schools as a way to communicate important messages. The e-message undoubtedly saves money, as the cost of print and stamps seems to climb ever higher. How can we forget the first Christmas that people started to adopt the e-card? At the click of button, sparkly festive scenes popped up in our inbox often accompanied by a carol played on loop in strange electronic tones. In many respects the Facebook and Instagram stories we can create today to wish friends 'happy birthday' are modern versions of the 90's e-card. They just look slightly more sophisticated and give greater ownership over format and style.
So what do we really think of emails - friend or foe? According to Teacher Tapp emails are regularly written and sent at weekends, which probably doesn't help endear them to their recipient!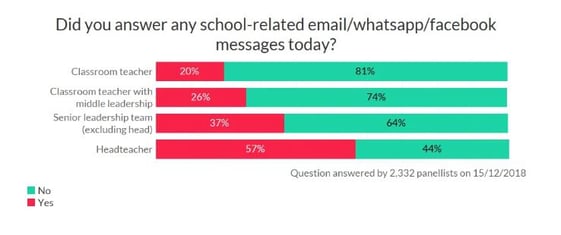 You may be thinking that it is all well and good talking about the downside of e-communications, when Frog promotes going digital but herein lies the difference. Our ability to connect with each other by email or any other electronic method provides us many advantages, we can reach a large number of people, design attractive communications and check-in anytime, anywhere. The problem is not that we have it, but in how we use - and in some cases - abuse it.
Well planned and executed communications should be well-received by their audience, whether that's a letter in the mail, an email or a social media post. It's the passive aggressive email that you accidentally picked up via a rogue push notification on a Sunday evening that will get you! Frog provides the means to facilitate improved communication practice in-schools, but still relies on a positive culture behind it to embed fair practice and disallow those late night messages. Technology can make us lazy, our cars may turn the lights on for us but when the auto-sensor misses that foggy day, how many of us forget we need to go back to manual? It is fantastic that we can communicate and share in so many ways but these vehicles still need a driver (at the moment).


Happy Electronic Greetings Day to you all!


---