As we're already a few weeks into the new school year, there will no doubt be new planning and prep to get ready and the Frog Family is here to help once again.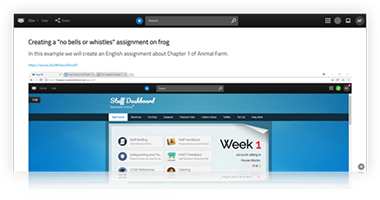 We've got two amazing resources from Backwell School,
built by Deputy Head Paul Conkie.
Paul created beginner and intermediate Frog training sites for his teachers, packed with videos and FAQs. Both focus on homework; the intermediate site goes further, with tips for sharing resources (and saving your photocopy budget in the process!) etc...
Both sites are available on the FrogStore, you can easily request for them to be installed using the links below...
Remember, as with all Frog sites, they can all be easily edited to match the language of your school or even more personalised with logos and images too.



We learned about Paul's sites, thanks to his submission in our Frog Genius course. If you'd like to become a genius yourself, follow this link to find out more...