On Monday 27 June the Frog team excitedly gathered in a car park to travel to Whalley Range High School in Manchester to lead a Girls Coding Event to show young women what a career in coding involves and of course to have a bit of fun!
A survey of developers from Stack Overflow conducted in 2015 showed that 92.1% of developers are male. What's particularly interesting is that research conducted in the US showed that women on average have higher approval ratings on the code they write compared to their male equivalent. The tech industry is growing all the time and encouraging our women into these kinds of positions is really important.
Year 9 Students from Levelshulme High School and Saint Paul's were invited to participate in the coding event, adding another level of competition to the day. We split the event into two parts to focus on creativity and technical coding. The first part allowed students to work together in teams to design their own app for the education industry which they presented to our panel of expert Frog's. We were so impressed with how eloquently and enthusiastically they did this. The ideas were better than some we've heard in our boardroom! The second part of the day was a coding competition where we led the students through the basics of HTML and CSS and then gave them the task of designing their own website in Frog. We were genuinely impressed by the pupils and they all achieved so much in a matter of hours. After some prolonged discussions we chose winners and presented prizes of vouchers and Frog goodies. It was a brilliant day, and we are so honoured to have been part of it.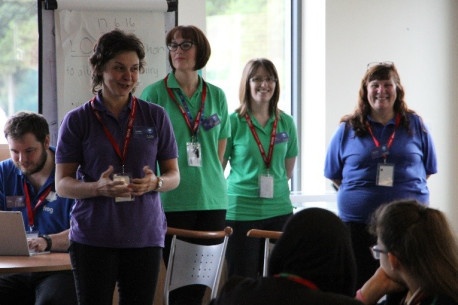 If you want to see what Whalley Range High School's thoughts on the day were, you can read their blog post on the event.
We want to say a huge thank you to the team at Whalley Range High School for organising and hosting the event as well as the teams of Levelshulme and Saint Paul's for arranging for your pupils to participate. Lastly a huge thank you and well done to all of the students for being involved in the first girl's coding event!