No two schools are the same — each has its own unique identity, strengths and requirements. What happens in each school will be different depending on individual needs of the pupils, the demographic of the intake, and the strengths and individual teaching styles of the staff. This is equally true of schools belonging to a Multi Academy Trust (MAT), but with one key difference: schools within a MAT are uniquely placed to pool resources to support each other, share best practice and encourage collaboration, as well as to streamline standard documents and processes to reduce workload, improve pupil outcomes and drive consistency and efficiency.
This doesn't mean taking a cookie-cutter approach; far from it — this is about the sum of the MAT's parts making each individual school stronger. Centralisation can bring all the schools within your MAT closer together - and enable them all to shine individually.
Being cost-effective in your Multi Academy Trust

Implementing a centralised communication system, such as a MAT intranet, ensures schools have access to the same information and enables MAT-wide communications to be shared with everyone at once. To work effectively, a MAT intranet should be easily accessible and rich with information so that schools engage with it. Establishing a protocol for MAT communications early sets expectations, so that schools don't default to existing methods.
Having a single system for all schools within a MAT is good news, particularly for CFO's as it enables the trust to become more cost-effective in a number of ways:
Removes redundant subscriptions to multiple software tools, making instant savings
Enables a comparison of performance data across schools so that pockets of stronger and weaker teaching practice can be identified more easily, and support deployed more effectively
Means good practice can be identified more easily - leveraging areas of best practice through coaching and delivering CPD in-house means significant savings on consultants or course fees, as well as travel and cover (depending on the proximity of the schools within your MAT)
Ensures resources can be easily shared between schools via one intranet system, also a way to link schools that may be geographically separated.
Saves hours of manpower on administration and HR task by centralising policies and procedures.
Reduces teacher workload which has a positive impact on staff retention and morale, lowers the rate of staff turnover and absence (potentially reducing recruitment and cover costs).
---
Reducing teacher workload within your Multi Academy Trust

One centralised system where all planning and resources are housed has obvious time-saving benefits. Lesson planning and schemes of work can be shared out amongst departments, exemplar materials and teaching resources can be easily uploaded (and easily found) — potentially saving hours of work that would have been spent creating new resources from scratch or searching for resources online.
Using a specially designed MAT intranet all documents, policies and procedures have a central home. This creates one source of truth for everyone within the MAT. Additionally, with a secure single sign-in users get to see only the content and information that is relevant for them and their role.
From a teaching and learning perspective, schools can easily share best practice using a MAT intranet, which helps to raise standards overall.
"We know that a number of effective MATs have taken the opportunity to standardise effective teaching approaches....In many instances this has proven to be effective in improving pupil outcomes. These economies of scale can also help reduce unnecessary work for teachers. School leaders' time can also be freed to focus on school improvement by centralising administrative, HR and corporate functions."
DfE Multi-Academy Trusts: good practice guidance and expectations for growth
The DfE's workload challenge report found that some of the key contributors to excessive teacher workload included administrative tasks, duplication of tasks and too many sources of information to manage:
"The consultation requested respondents to provide their feedback on what they perceived to be the 'unnecessary and unproductive' tasks that they were required to carry out:
45% stated that duplication added to the burden of their workload
41% stated that the over-bureaucratic nature of the work made it burdensome
Other factors noted by respondents included:
too many sources of information to manage (e.g. email, virtual learning environment, bulletin)
poor/unreliable Information and Communication Technology (ICT) equipment and lack of software training lack of clarity with observation requirements
The most frequently mentioned tasks contributing to unnecessary and unproductive workload fitted within the category of lesson planning and policies, assessment and reporting administration (82% of respondents mentioned tasks which fitted into this category)."
-DfE Workload Challenge Report
With access to more useful teaching resources, and the burden of unnecessary administration tasks removed, teachers can focus on what they're best at — helping each individual pupil to achieve their full potential.
---
Achieving consistency across your multi academy trust

How much does the quality of teaching vary across the schools in your MAT? Do expectations vary, or do teaching staff have a clear model to work towards? There will be pockets of good and weak practice in all your schools — so what tools are you currently using to identify those areas, and how is this information being used to genuinely improve the quality of teaching?
Being able to compare and share data in the same subject areas across schools means you can easily identify where the strongest practice is and where support is needed. Using data meaningfully to diagnose and prescribe will help to ensure that any data is accurate and not simply being entered into the system as an end in itself. Having one shared area for teaching resources also makes it easier for leadership teams to monitor planning, assess the quality of what is being delivered and compare across departments:


"Standardise the approach to using information and external quality assurance across your schools. This enables the trust's board to be given consistent information so that they can quickly see and make comparisons of the performance of each school, both as a whole and in particular areas (such as the impact of pupil premium funding). It is also easier to identify areas of strengths and weakness within individual schools and, therefore, where schools can support each other."
"Keep your approach simple. Focus, above all, on making teaching as good as it can be. This should be the focus of your school leaders' time too, so try to free this up by centralising administrative, finance and HR functions where/when appropriate."
DfE Multi-Academy Trusts: good practice guidance and expectations for growth
As well as encouraging collaboration between teachers across the schools in your MAT, having a shared intranet also enables trustees, governors and your executive team to collaborate within a secure environment. This ensure everyone is connected even when separated geographically.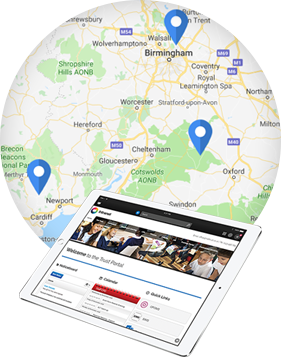 Regional Schools Commissioners have cited collaboration between schools within a MAT as a key factor to their success:


"We would be daft as a system if we weren't trying to learn the lessons and link up in the way London schools have done...No one is isolated in London. Schools are supporting each other towards success and that's the kind of thing we need to replicate."
Martin Post, regional schools commissioner for north west London and south central England
"High-performing schools in rural areas can create highly effective school communities in the region, as an academy MAT [multi-academy trust] or trust, to work together, to share the costs - which obviously make those things more viable - but also to share their expertise so they can continue to drive on the high standards."
Paul Smith, RSC for Lancashire and West Yorkshire
How Frog Supports MATs
Frog Education has developed a comprehensive suite of solutions that respond to the complex challenges faced by MAT leaders. As Multi Academy Trusts vary so much we fully recommend starting your enquiries with our free consultation offer. If you'd like to arrange a visit, please complete the form below and we'll be in touch.