Giving students a simple reward for their behaviour, being helpful or simply for a great piece of work can have positive benefits throughout a class and for the individual as well. A couple of years ago we launched our straightforward rewards solutions, which uses FrogCode widgets to allow you to award points to a class easily.
We recently began conversations with Access To Education (a Surrey County Council service delivering education to children currently not in school for a various reasons), who wanted to present rewards for different character traits and have these add up over the year. They had already created a form in Frog to collect data but hoped to display it in a 'student friendly' format.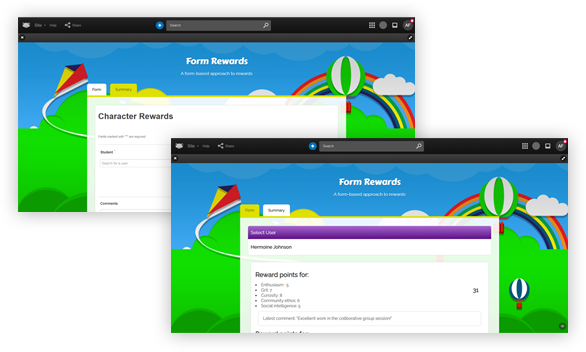 After a little investigation by the team to see what we could do with the tools that already exist within Frog and with a little bit of code, we found them a solution...
"Graham was instrumental in coding a summary sheet for our site which summarised their totals.  The greatest thing about his form is that it is 'dynamic', so the information on the site is always accurate and up to date.  This has proved very motivational to our students."
Emma Stephens-DuCros
Access to Education (A2E) Higher Level Education Assistant (HLEA)
We were thrilled to receive this feedback and would love to
help if you're in need of a little tweak to the rewards system within your school.
If you want to read about how a school is using Frog to handout digital rewards for their students click the link below...


Or maybe you have an idea you need help with for your own rewards or badges. Why not get in touch and see if we can help?