In a recent Twitter poll we asked people how they generally respond when hitting a stumbling block with technology.
85% Would go online to find an answer!
The good news is that there's a wide range of resources and support available online to our Frog Family.
We highly recommend visiting our Common Questions Forum as a great place to find answers and pose new questions.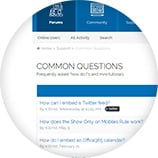 As well as regular Q&A chat, there's mini tutorials available to walk you through popular Frog features in no-time!
...........................................


Would you like to embed a Twitter feed in Frog?
Perfect! Visit the Common Questions Forum to find out how!


Housekeeping Reminder!
For Frog admins, remember the summer holidays are a great time to tidy up expired users and groups. This is something we do need you to pay attention to, as we don't archive this information automatically.


Check out the end of year advice on the FrogCommunity:


Have a great break!